2mn05 – 2013 – Etats-Unis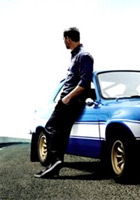 En hommage à l'acteur Paul Walker qui a trouvé la mort le 30 novembre 2013 dans un tragique accident de la route alors qu'il était passager dans la porsche de son ami Roger Rodas, le studio Universal via la chaîne YouTube officielle Fast & Furious a publié une vidéo pleine d'émotions. Son accident mortel est survenu alors qu'il rentrait d'un gala de charité au profit des victimes du typhon Haiyan. A Tribute to Paul Walker est diffusé gratuitement et légalement à titre postume.

Synopsis : Quelques images émouvantes pour saluer la mémoire de Paul Walker au travers de séquences des films Fast and Furious qui l'ont rendu célèbre.

Regardez la vidéo A Tribute to Paul Walker gratuitement (intégral) :
Lien utile autour de la vidéo A Tribute to Paul Walker :
Images de la vidéo A Tribute to Paul Walker :