1mn44 – 2013 – Etats-Unis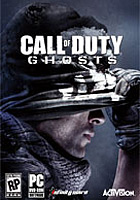 Prêt pour en prendre plein la vue ? Embarquez pour Epic Night Out et accrochez-vous ! Au programme, des scènes d'action explosives dans un décor apocalyptique, un casting grand luxe avec l'actrice Megan Fox et des effets spéciaux de grande qualité digne d'une superproduction américaine. On doit dire que pour cette publicité pour le jeu Call of Duty : Ghosts le réalisateur James Mangold (Wolverine : le combat de l'immortel) n'a pas lésiné sur les moyens et sur les effets pyrotechniques. Une excellente vidéo de qualité qui mérite vraiment le coup d'oeil ! Elle est diffusée gratuitement en intégralité depuis la chaine officielle Call of Duty sur YouTube.

Synopsis : On suit une bande de potes dans des aventures futuristes trépidentes et musclées à Las Vegas.

Regardez le live action trailer Epic Night Out – Call of Duty : Ghosts gratuit :
Liens utiles autour de la vidéo Epic Night Out – Call of Duty : Ghosts :
Images de la vidéo Epic Night Out – Call of Duty : Ghosts :