17mn16 – 2012 – Etats-Unis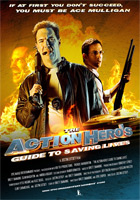 Entre action et comédie, « The Action Hero's Guide to Saving Lives » est un court métrage américain de Justin Lutsky. Avec un scénario malin qui rappelle celui du film « un jour sans fin », les scènes s'enchainent parfaitement et l'humour ne manque pas. On retrouve Patrick Warburton (que l'on a pu voir notamment dans des films comme Scream 3, Men in Black 2, Max la Menace…) dans le rôle-titre. Produit en 6 semaines et demi et filmé en 4 nuits, la réalisation de ce film au micro-budget a été possible grâce à la collaboration de toute son équipe. Ce court métrage est malheureusement uniquement disponible en V.O. (anglais), heureusement les dialogues sont plutôt courts et laisse la part belle à l'action. Ce film est diffusé gratuitement et légalement par son studio Epic Image Entertainment.

Synopsis : Quand la vie est en danger, que le danger menace à chaque coin de rue, parfois la meilleure chose est d'appeler Ace Mulligan ! Mulligan trouvera toujours un moyen pour se sortir des pires situations ! Réussira-t-il à sauver une fille sexy après s'être débarrassé de tous les ennemis ?

Regardez le film The Action Hero's Guide to Saving Lives gratuitement :
Liens utiles autour du film The Action Hero's Guide to Saving Lives :
Images du film The Action Hero's Guide to Saving Lives :