2016 – 21mn36 – Etats-Unis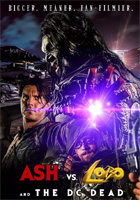 Découvrez un fan film spectaculaire truffé d'action et avec un suspens haletant ! Volontairement surjoué et mélangeant les genres (l'univers des Comics et Evil Dead), ce fan film est l'oeuvre de la chaîne youtube WTFLOL. Leur précédent fan film (Marvel Zombies vs Army of Darkness) dont "Ash vs Lobo and The DC Dead" est la suite avait d'ailleurs fini par être retiré de YouTube suite à la demande des ayants droits. Profitez-en, pour le moment leur nouvel opus est toujours disponible ! Attention aux yeux toutefois pour les personnes sensibles, les réalisateurs n'y vont pas de main morte et certaines scènes sont assez trash.

Synopsis : On suit Ash et Gwen Stacy dans un monde apocalyptique pleins de zombies et de super-héro tous plus barré les uns que les autres qui aimeraient récupérer le Necronomicon. Batman, Green Arrow, Green lantern et Lobo sont ainsi de la partie pour le meilleur et surtout pour le pire !

Regardez Ash vs Lobo and The DC Dead gratuit (intégral) :
Lien utile autour de Ash vs Lobo and The DC Dead :
Images du fan film Ash vs Lobo and The DC Dead :