2015 – 4mn40 – Etats-Unis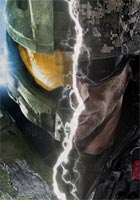 La team de RackaRacka nous revient en force avec ce nouveau fan film explosif qui nous en met plein la vue. Attention ! Éloignez les enfants et les personnes sensibles, ça va saigner ! Avec une bonne dose d'action et des effets spéciaux numériques réussis, ce fan film nous offre près de 5 minutes de spectacle musclé entre les deux licences à succès Halo et Call of Duty. Un show musclé avec des combats qui s'enchaînent à la perfection. Les fans des deux licences seront ravis 😉 Halo VS Call of Duty est diffusé gratuitement et légalement par ses auteurs via leur chaîne YouTube officielle.

Synopsis : On suit un groupe d'amis entrain de jouer à la console dans une chambre. La mère d'un des jeunes vient se plaindre qu'ils font trop de bruit. C'est alors que Master Chief débarque et décide de faire un massacre. Il vont devoir se battre pour leur survie !

Regardez le fan film Halo VS Call of Duty gratuitement (Intégral) :
Lien utile autour de Halo VS Call of Duty :
Images du fan film Halo VS Call of Duty :